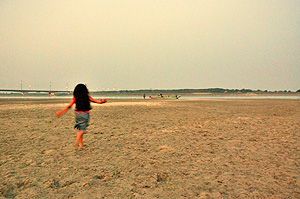 Bangladesh Railway has decided to provide a Special Train to take the interested guests, authors and participants of the conference to the Hardinge Bridge site and bring back to Dhaka on the same day by a special train.
Trip Plan is as follows:
23 August 2015 (Sunday)
Start from Cantonment Railway Station: 8:30 am
Reach Paksey (non-stop journey): 12:15 pm
Lunch and a Presentation on the Bridge: 1:00 pm - 3:00 pm
Visit to the bridge: 3:00 - 4:00 pm
Return journey from Paksey Station: 4:45 pm
Return to Dhaka Cantonment Station by Special Train (non-stop): 10:00 pm
The train will pass the scenic country side of Bangladesh and shall cross the Jamuna via 4.8 km long Banganbandhu Jamuna Bridge, at present the longest bridge of Bangladesh. The 1.64 km long Lalon Shah Bridge (a road bridge on N704) built in 2004 runs parallel to the Hardinge Bridge at its downstream.
Geo-coordinate:

The technical trip is FREE [at no additional cost].
IMPORTANT:
If you are interested to participate in the technical visit, please intimate us by sending a confirmation email at aminsaiful71@gmail.com as soon as possible to help us organizing the trip. Please mention "Field Trip Participation" in the subject line.
The space in the trip is limited and subject to availability of seats. The facility will be available on first-cum-first serve basis.